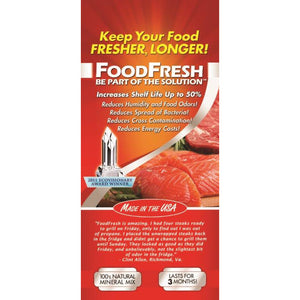 Are you tired of throwing way steaks that turn Brown before you can cook get them?
Tired of your Saran wrap or Reynolds wrap coming loose and your butter tasting like onions.
Food fresh…
reduces cross contamination of odors
adsorbs moisture which reduces mold and mildew?
Simply science… Dry air is easier to cool than moist are…. So Food Fresh will also….
Will reduce compressor run times
Save energy 
Save on costly repairs and will obviously help the refrigerator last longer.
Also, reduces the need for those expensive wraps that always come loose anyways…
KeepFoodFresherLonger.com products are 100 % All-natural zeolite minerals that are recyclable back to mother Earth in the form of fertilizer for your lawn, garden, or household plants when you're done with them. And don't worry… the Dupont™ Tyvek® Bags the minerals are in are FOOD SAFE!!!