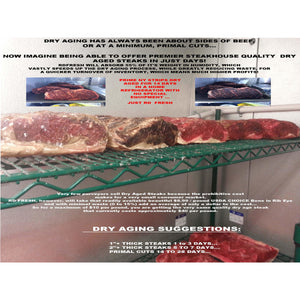 IMAGINE BEING ABLE TO OFFER PREMIER STEAKHOUSE QUALITY DRY AGED STEAKS IN JUST DAYS NOT WEEKS!
RD FRESH WILL ABSORB 35% OF IT'S WEIGHT IN HUMIDITY, WHICH VASTLY SPEEDS UP THE DRY AGING PROCESS, WHILE GREATLY REDUCING WASTE, FOR A QUICKER TURNOVER OF INVENTORY, WHICH MEANS MUCH HIGHER PROFITS!
Very few purveyors sell Dry Aged Steaks because the prohibitive cost makes for a very small consumer market. RD FRESH, however, will take that readily available beautiful $8.99 / pound USDA CHOICE Bone in Rib Eye and with minimal waste (0 to 15%) add an average of only a dollar to the cost… So for a maximum of $10 per pound, you are getting the very same quality dry age steak
that currently costs approximately $40 per pound.
IMAGINE BEING ABLE TO PUT (20) 2 " PRE-CUT STEAKS IN YOUR WALK IN ON TUESDAY AND HAVE THEM READY TO SERVE STARTING FRIDAY!! 
Weather bad?? Didn't get the turn out you expected??? THEY WILL STILL BE GOOD (Actually getting better) till next weekend.
First you need to figure out how many panels you need for each walk-in.
You  will need 1 panel every 250 Cubic Feet (Length x Width x Height).
If your Walk-In is smaller than 500 Cubic Feet you will need 2 Panels due to the size, amount of food stored in it, and the amount of times it will be opened and closed.
Example: 10' X 10' X 12' = 1200 Cubic Feet / 250 Cubic Feet per Panel = 4.9 Panels... You need 5 Panels
Example: 10' X 8' X 10' = 800 Cubic Feet / 250 Cubic Feet per Panel = 3 Panels
Example: 8' X 8' X 10' = 640 Cubic Feet / 250 Cubic Feet per Panel = 2.56 Panels.. You need 3 Panels.